Published on
The InnoBlueGrowth project organizes this transnational Capitalization & Community Building event next June 20-21, 2018 in Athens, Greece.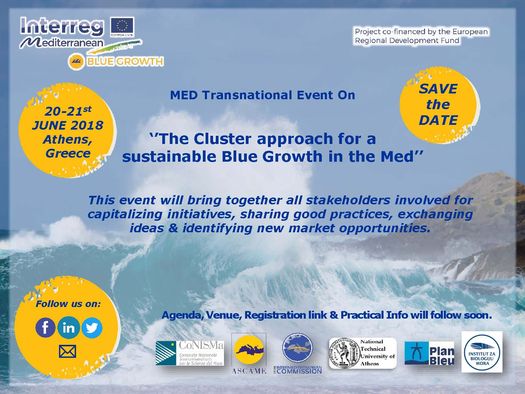 The InnoBlueGrowth project organizes its next transnational Capitalization & Community Building event "The Cluster approach for a sustainable Blue Growth in the Mediterranean" next June 20-21, 2018 in Athens, Greece. This event will have a dual approach, revolving around the theme of "clusters."
The first day will be applied to capitalization with a focus on Maritime Surveillance, in collaboration with the PROteuS project. PROteuS aims to establish a Mediterranean Maritime Surveillance Cluster, fostering innovation and R&D capacities, knowledge and technology transfer, as well as transnational cooperation among the involved key Maritime Surveillance actors, focusing on maritime security and safety mechanisms in the basin area.
The second day will have a community building approach. It will give the opportunity to decision-makers, stakeholders, end-users, SMEs, the academia, etc. to exchange methodologies, ideas & best practices of clustering, outlining clusters challenges and benefits for the sustainable development of the blue economy.
This third transnational event will increase the visibility of the Blue Growth community and its impact on the policy making process at regional, local, national and Mediterranean level. A common message for the value of maritime clusters in the Mediterranean area will be released later on, in order to raise awareness and enhance social acceptance for a sustainable economic growth.