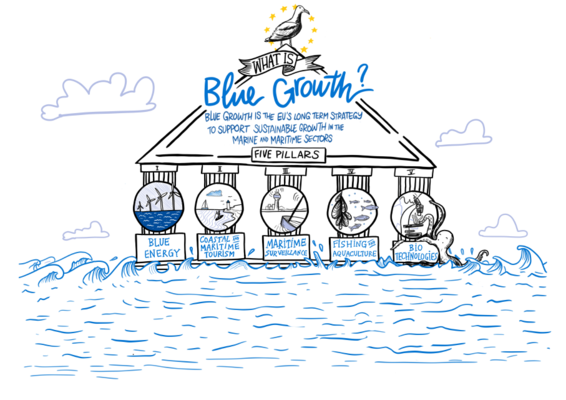 Blue Growth Interreg MED horizontal project (2019-2022) is the continuation of InnoBlueGrowth Interreg MED horizontal project (2016-2019).
During the first phase, InnoBlueGrowth has built a real community of projects dealing with Blue Growth. This innovative community has allowed the reinforcement of the cross-cutting and integrated dynamics between projects and transnational key stakeholders and the support of Mediterranean clusters in their transnational activities processes.
Moreover, InnoBlueGrowth has enhanced the dissemination and transferability of several modular and integrated projects' results, consequently ensuring a wider and deeper impact towards external multilevel stakeholders and contributing to the sustainable socio-economic development of the Mediterranean area through innovative investments in the Blue economy.
Blue Growth, after laying the foundations of a strong community during the project's first phase, comes now to its capitalization phase. It will assist and coordinate the modular/integrated projects dealing with Blue Growth in their communication and capitalization activities, creating and ensuring internal (inter-community) and external synergies, knowledge sharing, transfer and capitalization for policy-making project recommendations take-on by key stakeholders (projects, SMEs, decision-makers, technicians, researchers, etc.).
Blue Growth's plans of action, that will be based on the thematic focus of Blue growth past and upcoming MPs, will address various audiences through specific tools (events, training, associates peer reviews, policy recommendations), channels (media, social networks, videos, online publications), and messages.
The aim is to help the external multilevel stakeholders to take-on the technical modular projects results and use them into policy-making at a multi-level governance scale, and the SMEs to benefit from the further development of the blue economy and entrepreneurship. The above actions will keep contributing to the sustainable socio-economic development of the Med area through innovative investments in the Blue economy. The results will reach not only the projects and programmes scales, but also beyond, at the Member States and Mediterranean levels.
Our Projects
Discover all Blue Growth projects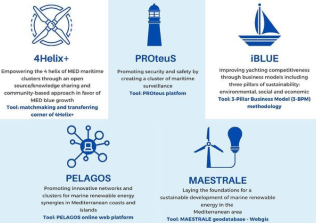 focus
transferring and capitalisation

Our community is focused in transferring the results and capitalising the tools developed by the MED Blue Growth projects in :
1) Maritime and Coastal Tourism 2) Fisheries and Aquaculture
3) Biotechnology – bioeconomy 4) Marine Renewable Energy
5) Blue Economy Funding Tools 6) Maritime Surveillance
marina platform

The Marina Platform is a virtual space that was designed to foster the interaction among all Blue Growth Community members. Through this platform, members can have access to the Expert's library and the Working Groups in different thematics.
85
ERDF & IPA Participation (%)

18
Months