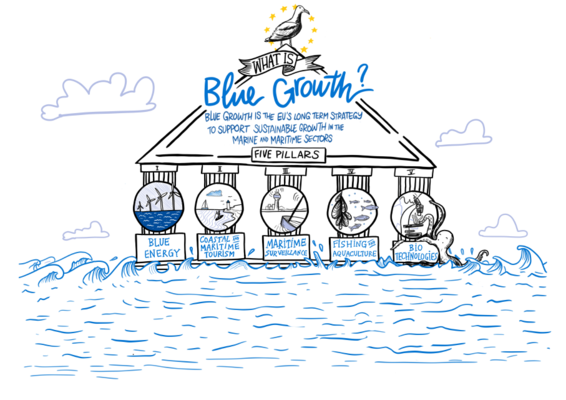 Blue Growth Interreg MED horizontal project (2019-2022) is the continuation of InnoBlueGrowth Interreg MED horizontal project (2016-2019).
During the first phase, the InnoBlueGrowth project succeeded to create a real community of Blue Growth projects. This innovative community made possible to strengthen the working ties between MED Blue Growth projects and transnational key stakeholders, to support Mediterranean clusters and favour the dissemination and transferability of several MED Blue Growth projects' results.
After laying the foundations of a strong community during the project's first phase, the Blue Growth Community is now in its capitalisation phase and is pursuing several key objectives:
• First, to assist and coordinate the MED Blue Growth projects in their communication and capitalization activities with the aim of supporting a better transfer of their projects' results/or "tools" into policymaking and their take-on by multilevel stakeholders (for example, regions, SMEs, researchers, etc.).
• Second, to benefit the development of Blue economy and entrepreneurship, mainly for SMEs.
At present, the Blue Growth Community network gathers a wide array of MED Blue Growth projects:
• Finalised and ongoing Interreg MED "modular" projects (16): three study projects, nine testing projects and four capitalisation projects
• Strategic projects (3): one project in Maritime Surveillance and two in Innovation.
In order to mobilise this broad community, the BGC carries out stakeholder events, trainings, associates peer reviews, policy recommendations documents and supports the transfer and capitalization of the most innovative tools developed by the MED Blue Growth Projects.
Our Projects
Discover all Blue Growth projects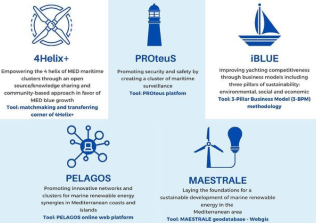 focus
transferring and capitalisation

Our community is focused in transferring the results and capitalising the tools developed by the MED Blue Growth projects in :
1) Maritime and Coastal Tourism 2) Fisheries and Aquaculture
3) Biotechnology – bioeconomy 4) Marine Renewable Energy
5) Blue Economy Funding Tools 6) Maritime Surveillance
marina platform

The Marina Platform is a virtual space that was designed to foster the interaction among all Blue Growth Community members. Through this platform, members can have access to the Expert's library and the Working Groups in different thematics.
Events
Blue Growth Community in numbers
85
ERDF & IPA Participation (%)

18
Months
MED BGC projects involved
13
Projects

partners & associated partners
25
Stakeholders

905
members

Countries involved in bgc
6
Countries